CFE PTO is holding its annual clothing apparel fundraiser. You can use the following link to order. Clothing will arrive the first week of December - in time for the holidays! All proceeds from this fundraiser go towards showing the Middle and High School Staff with love!
https://scholasticsportssales.chipply.com/chenforks2022/
Chenango Forks Apparel Sale Available with or without graduation year! Youth XS and S available for many items! Sale ends November 13 at midnight. Proceeds go to the Class of 2026 Copy and Open Link
https://5il.co/1jtr2
El Pulpo Night CF Costa Rica Club Wednesday, November 2nd Dine in or Take Out 10% of the profits to the Club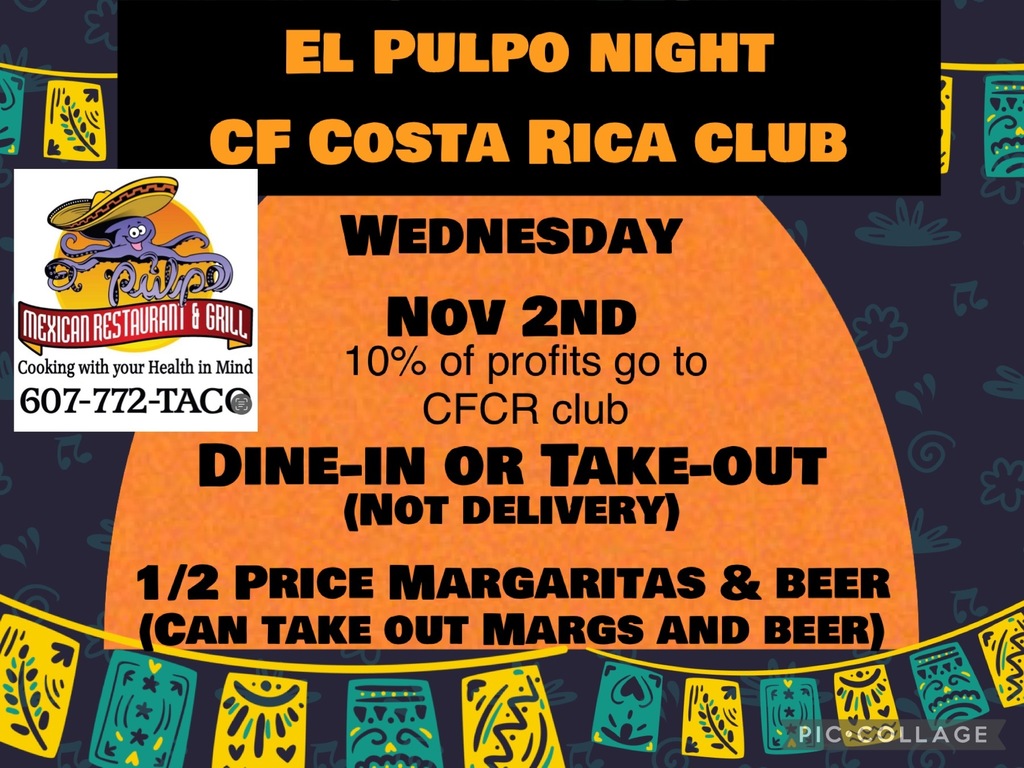 High School photo make-up days will be on Friday, October 28th. High school students who were absent for the original picture days or who would like their photos re-taken should report to the PD room across from Mrs. Doolittle's room during a free period or lunch to get their photo taken. If a student is wanting photos re-taken, they should bring their original photo package (if one was ordered) with them to their new photo session.
The shoe drive for Costa Rica club will be wrapping up around November 10th. Please be sure to send in your new or gently used shoes before the deadline. Shoes can be dropped off in the collection bins in the HS or ES visitor's entrances or you can contact
blackm@cforks.org
to arrange for a pick-up. Thanks for supporting our students as they plan to explore Costa Rica this spring.

Reminder: There will be no school on Monday, Oct. 10, 2022!
Reminder to Families- All CF School will be practicing a 15 minute early release drill on Thursday 10/6/22. There will be no remedial period for middle school and high school. All sports practices and contests will continue as scheduled.
9/27/22 Due to a driver shortage RT 11 will be combined with RT 12 this morning.

There will be a Pre-K Open House on Tuesday, Sept. 27. AM Pre-K will be from 5:30 - 6 pm and PM Pre-K will be from 6 - 6:30 pm. We hope to see you there!
9/26/22 Due to road closures for a traffic accident, there may be delays in picking up students for Routes 6 & 24 in the area of Knapp Hill and Church St.
Friday 9/23/22, RT 19 & 20 will be combined today which may impact pickup and drop off times slightly. Birnie Bus anticipates that all students should arrive on time to school.
This week CFE will kick off our RAY Program and Character Education program with our RAY of Character Spirit Week. See below for our daily themes this week.
Our staff is prepped and ready for our students tomorrow for the First Day of School! We'll see you soon! #ForksNation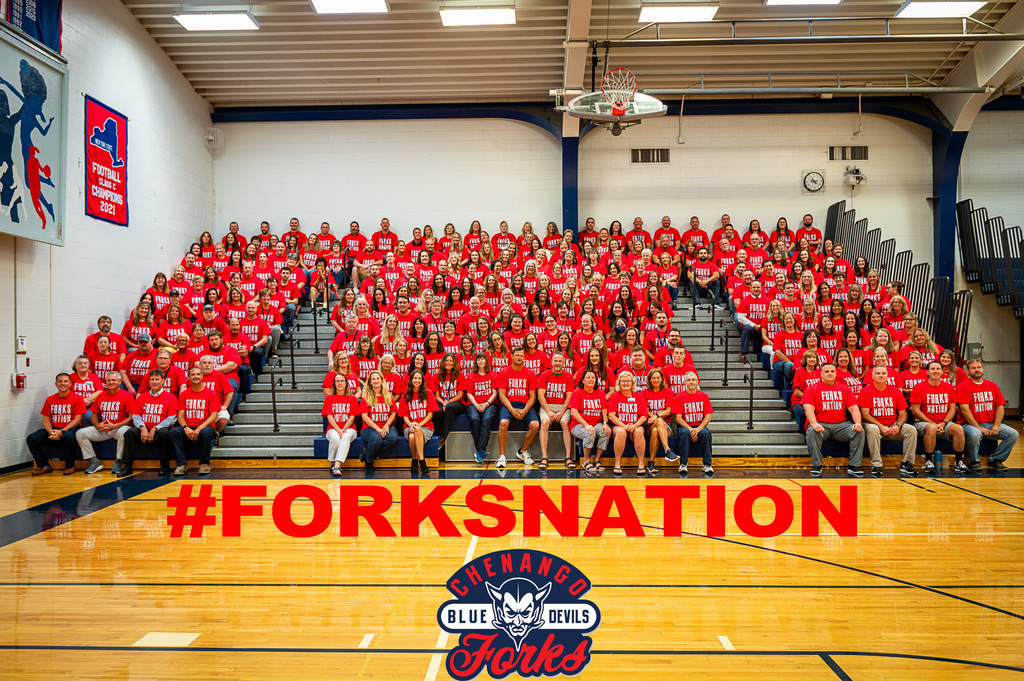 More information: CF Cheer Clinic. Please see flyer for registration details and more.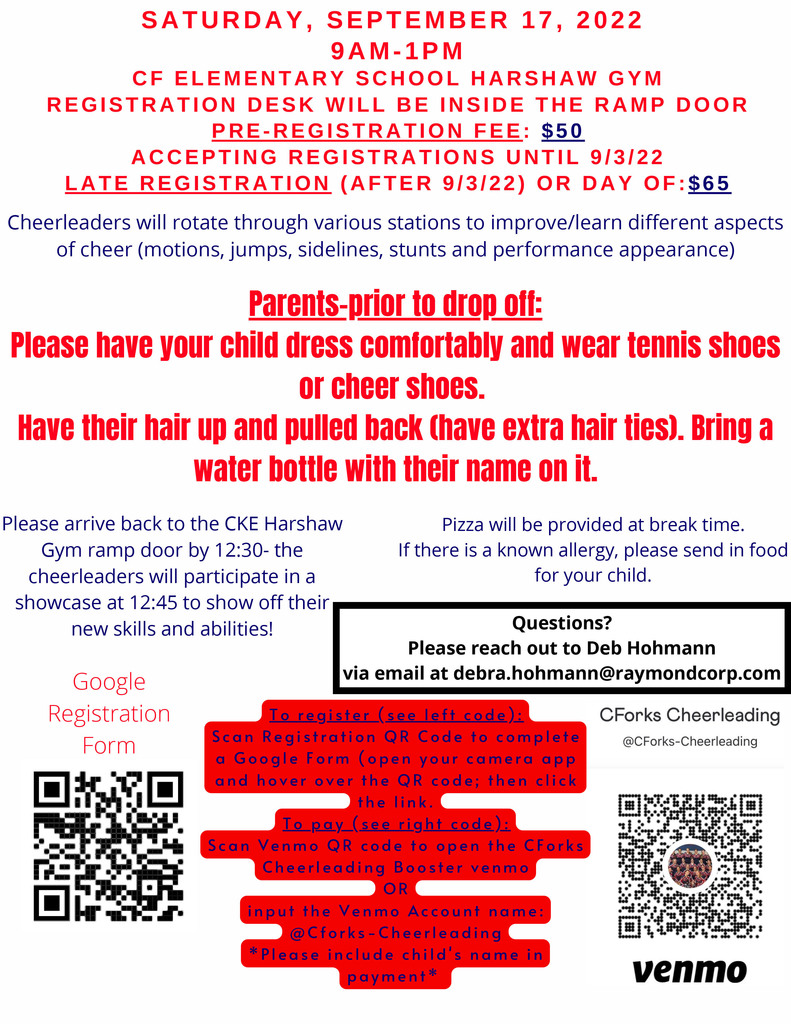 CF Cheerleading Car Wash is happening this Saturday, August 27th from 11am-2pm at the Nirchi's on Upper Front St. Bring your cans and bottles. Order a pizza when you pull in and pick it up (in your freshly washed car) when you pull out!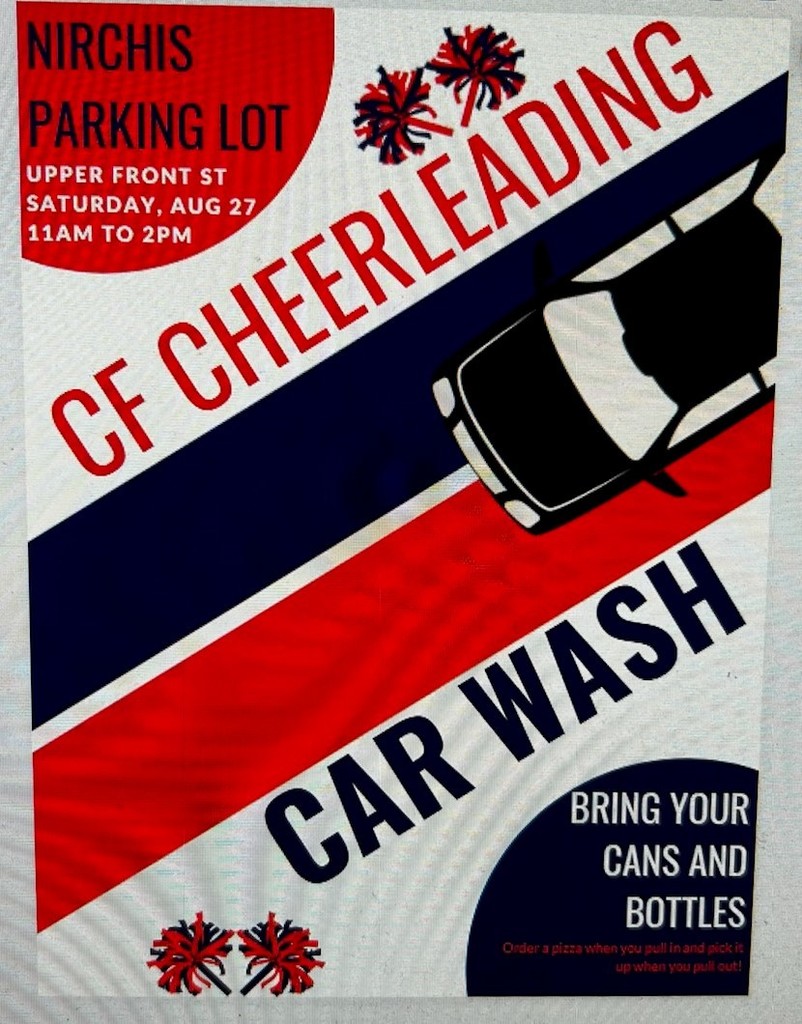 Cheer Clinic hosted by CFHS Cheerleaders. September 17, 9am-1pm. See flyer for more details.

The Liberty Partnership Program will host a "Show Up and Show Out" event at Chenango Forks High School from 11 a.m.-2 p.m. August 20. This is for students who will be in grades 6-12 this coming fall. Be sure to stop by for free food games, activities, giveaways and laser tag! We hope to see you there!

Attention, CFE families! This a reminder that CFE will be collecting all necessary paperwork and supplies during Aug. 1- Aug. 5. The office is open from 7 a.m.-2:30 p.m. We collect the paperwork early so we can process transportation changes and updated family information in a timely manner.

Attention, Kindergarten families! Please submit your paperwork for Kindergarten Jumpstart. The paperwork is due on Aug. 1 to CFE elementary office. Kindergarten Jumpstart is scheduled for ONE of two days: Aug. 24 or Aug. 25 from 9-11:30am. If you are in need of additional information, please call the main office at 607-648-7580.

We will be holding a "Christmas Baskets in July" fundraiser for our Christmas Basket program at the Farm by Beer Tree Brew on July 17 from 3-7 p.m. All proceeds from food sold during that time will go toward our Christmas Basket program. Just mention Chenango Forks. We hope to see you there!