The Liberty Partnership Program will host a "Show Up and Show Out" event at Chenango Forks High School from 11 a.m.-2 p.m. August 20. This is for students who will be in grades 6-12 this coming fall. Be sure to stop by for free food games, activities, giveaways and laser tag! We hope to see you there!

Our High School Yearbooks are in! They will be distributed in lunch periods beginning today. If you haven't already purchased a book, you can bring $75 cash or check addressed to Chenango Forks Schools to Mrs. Black in High School Room 113. The website is no longer available for purchasing books. For questions, email Mrs. Black:
blackm@cforks.org
.

Reminder! The Upstate Images photographers will be at the high school auditorium on June 21-22 to schedule senior portraits with current juniors. For more info, visit
https://bit.ly/3xej04N

Today (May 24, 2022) we received notice from New York State Commissioner of Education Dr. Betty Rosa that the Regents Examination in United States History and Government (Framework), initially schedule for June 1, has been canceled. All students in grades PreK-12 will be required to be in attendance on Wednesday, June 1, 2022. This will be a regular day of instruction. Please contact the main office of your child's building for further questions.


The High School Art Club is selling Gilligan's Ice Cream, from Gilligan's Island in Sherburne, to help fund the creation of hygiene stations for students who need access to deodorant, soap, shampoo, hair ties, makeup wipes, etc. For more info, visit
https://www.cforks.org/article/707166

You can now reserve your tickets for the High School Drama Club's upcoming production of "Newsies!" The production will be held at 7 p.m. April 21-23 and 2 p.m. April 24 in the High School Auditorium. For more information, visit
https://bit.ly/3KlLZYw
For questions, email Lexi Bryant:
bryantA@cforks.org
.


The Mock Trial team won the in-person Northeast District County Championship at the Federal Courthouse Tuesday evening! They will be competing via Zoom for the Divisional Championships from April 26-27. Winning teams will then advance to the State Championships, also via Zoom on April 30.


High School freshman Da'Shaun Aldrich has won the "Making Room at Our Table" contest, sponsored by Broome County's Family Violence Prevention Council. Da'Shaun's winning art piece will be displayed on a billboard in Broome County. He'll also participate in a press conference along with Broome County Executive Jason Garnar. Senior Cassidy Nowik came in third place and will be receiving an art kit. More info to come!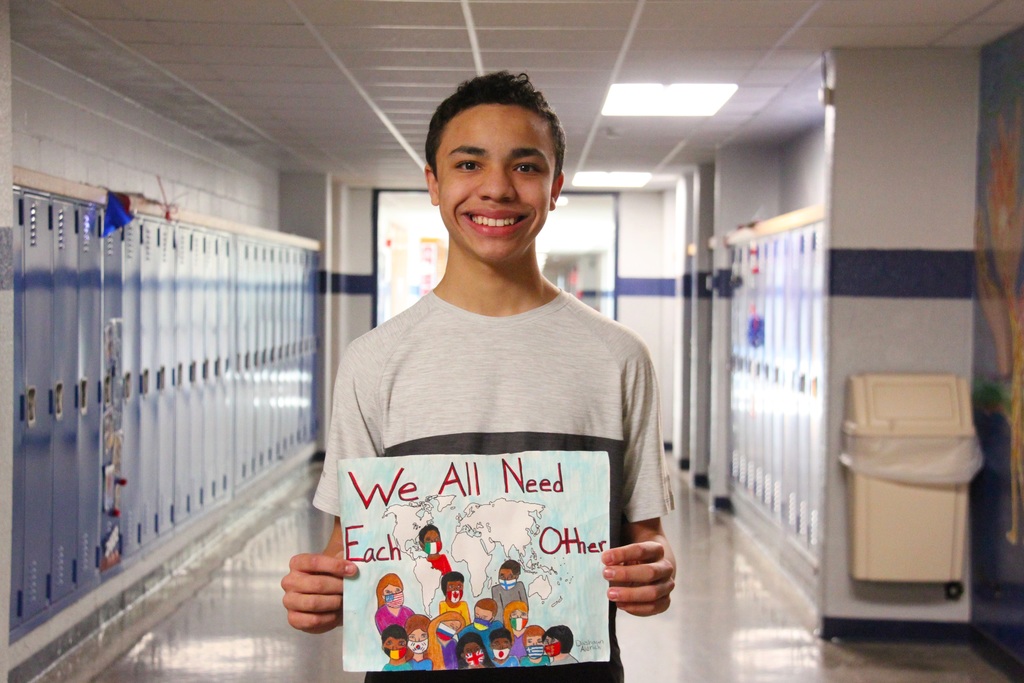 Four CF students are finalists in the "Making Room at Our Table" contest sponsored through Broome County's Family Violence Prevention Council. The winner of the contest will have their work displayed on a billboard in Broome County. To vote, visit:
https://bit.ly/3w3t2W7